(日本語のレシピは以下にございます。)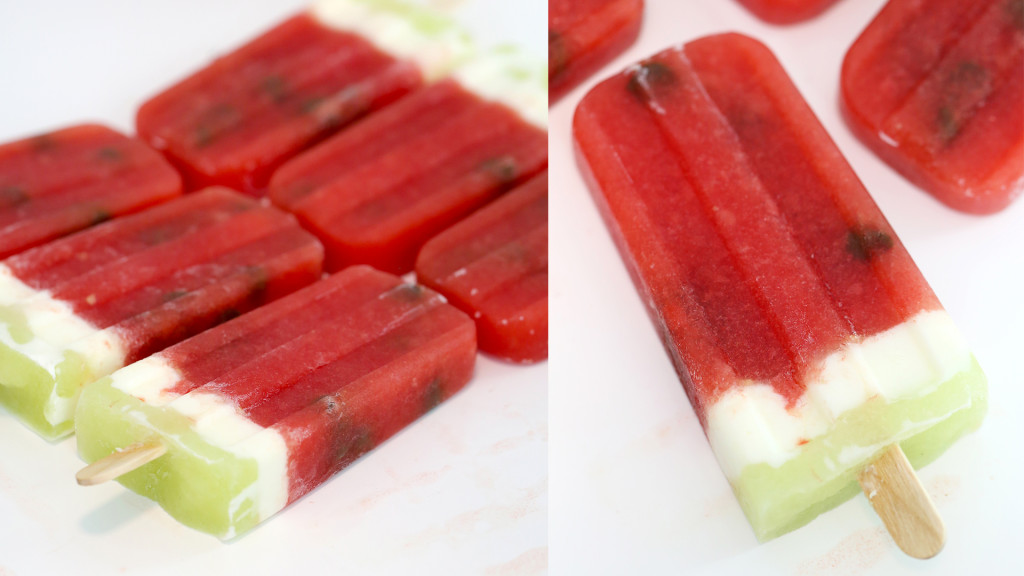 Watermelon Popsicles | スイカのポプシクルの作り方
Ingredients
3 ½ cups fresh watermelon, cut into cubes
1 tbsp sugar
1 tbsp lemon juice
¼ cup chocolate chips
½ cup coconut-flavoured yogurt (or any white yogurt)
1 cup honeydew melon, cut into cubes
1 tbsp sugar
Directions
1. Place the watermelon, 1 tbsp sugar and lemon juice in a blender and pulse until smooth. Pour into a popsicle mold, filling them 2/3 full. Divide the chocolate chips between the molds and gently disperse within the molds with an extra popsicle stick. Place popsicle sticks into the molds and freeze until frozen solid, 1-2 hours.
2. Spoon some yogurt on top of each popsicle, leaving room for the honeydew melon layer. Freeze for 1 hour, or until fully frozen.
3. Place the honeydew melon and sugar in a blender and pulse until smooth. Spoon the mixture onto the popsicles and freeze for 2 hours, or until frozen solid.
4. Unmold the popsicles by running the popsicle mold under warm water – make sure not to get water INTO the mold! To store, wrap each popsicle in wax paper and place them in a freezer bag. Store in the freezer and enjoy whenever you like!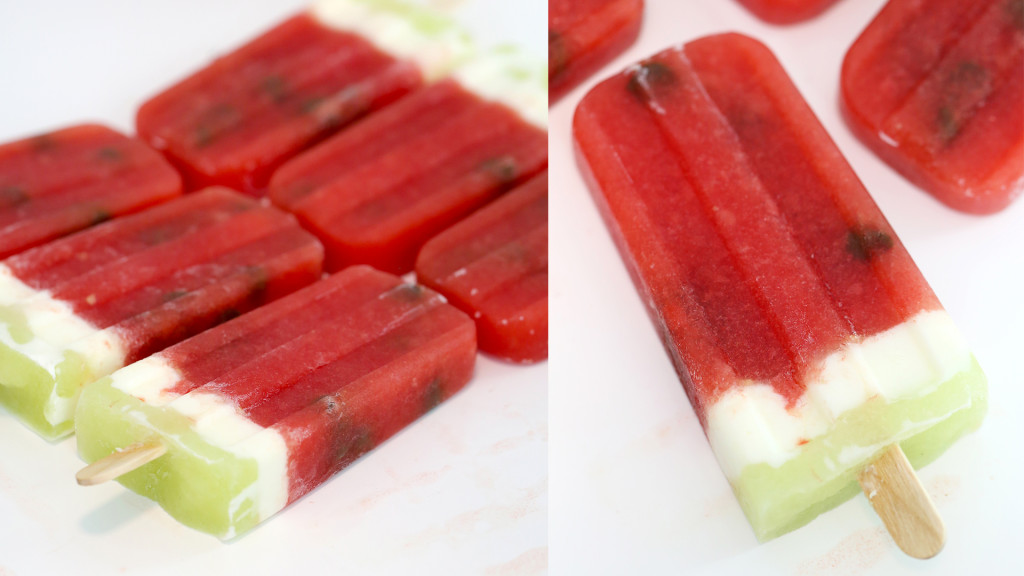 Watermelon Popsicles | スイカのポプシクルの作り方
材料
スイカ(角に切った) カップ3.5
砂糖 大さじ1
レモン汁 大さじ1
チョコチップ カップ1/4
ココナッツ味のヨーグルト(または白色のヨーグルト) カップ1/2
ハネージュメロン(角に切った) 1カップ
砂糖 大さじ1
作り方
①スイカ、砂糖大さじ1とレモン汁をブレンダーに入れ、なめらかになるまでスイッチを入れる。ポプシクルの型に70分まで流し入れる。チョコチップを型に分け、キャンディー棒で型の下に押す。キャンディー棒を型に入れ、冷凍庫に1~2時間しっかり固まらせる。
②ヨーグルトをその上に入れ、冷凍庫で1時間冷やす。
③ハネージュメロンと砂糖をブレンダーに入れ、なめらかになるまでスイッチを入れる。型に流し入れ、冷凍庫に戻し、しっかり固まらせる。
④型から取り出すと完成です!