(日本語のレシピは以下にございます!)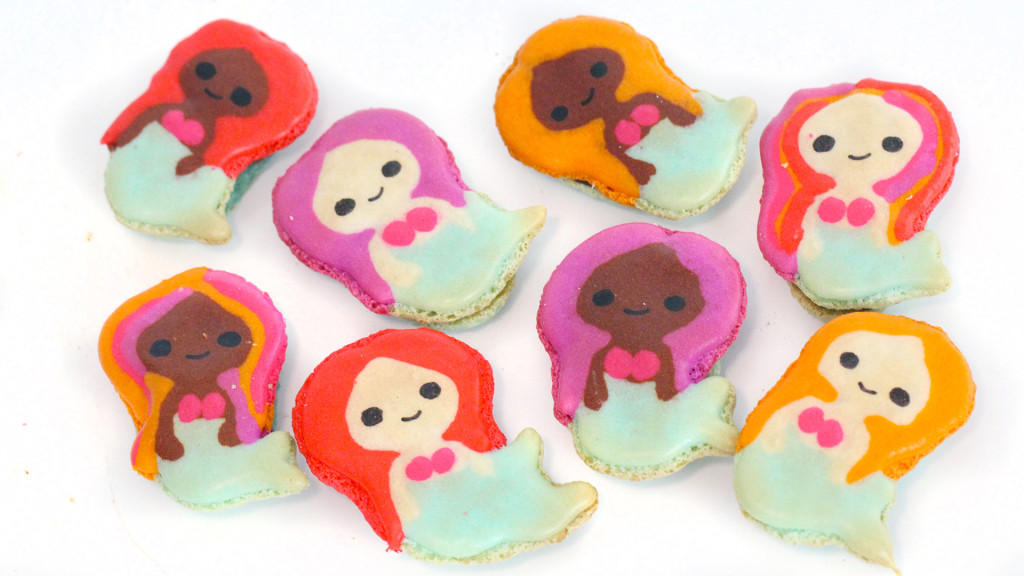 Mermaid Macarons | 人魚のマカロン
Ingredients
1 cup confectioner's sugar
3/4 cup almond flour (not almond meal)
2 large egg whites
pinch cream of tartar
¼ cup superfine sugar
1 tsp vanilla extract
blue, pink, red, orange, purple and brown food coloring
jam, for filling
edible ink pens
Directions
1. Combine the confectioner's sugar and almond flour in a bowl, then sift 3 times.
2. Place the egg whites in a large bowl and beat with an electric mixer until foamy. Add the cream of tartar, then beat until soft peaks form. Add the superfine sugar and beat on high speed until stiff peaks form. Add the vanilla extract and gently mix to combine. Sift the dry mixture into the egg mixture and gently fold to combine.
3. Divide the batter into 3 bowls. Dye one bowl blue. Divide the second bowl in half, leaving one half beige and dye the other half brown. The remaining bowl of batter will be used for the hair and the bras, so divide it into as many bowls and dye it your desired colours. We used pink for the bras and red, orange and purple for the hair.
4. Place the batter into piping bags fitted with medium-small sized round tips. First, using the beige or brown batter, pipe the faces and bodies. Use the blue batter to pipe the tails. Use the beige or brown batter to pipe the arms. Pipe the hair with your desired colours, then the bras. Tap the baking sheets on your countertop a couple times to remove any air bubbles. Let the macarons sit at room temperature for 30 minutes.
5. Set your oven to 375F, heat for 5 minutes, then reduce the heat to 325F. Bake the macarons, one sheet at a time, for 6-8 minutes, rotating halfway through. After each batch, increase the heat to 375F, heat for 5 minutes, then reduce to 325F and pop the next sheet into the oven!
6. Allow the macarons to cool on the sheet for 2-3 minutes, then transfer to a wire rack to fully cool. (I recommend leaving them overnight, since they will be quite delicate and need to slightly stiffen in order to draw the faces.)
7. Draw the facial features with edible ink pens.
8. Place a dollop of raspberry jam between the top and bottom macarons, sandwich them together and enjoy!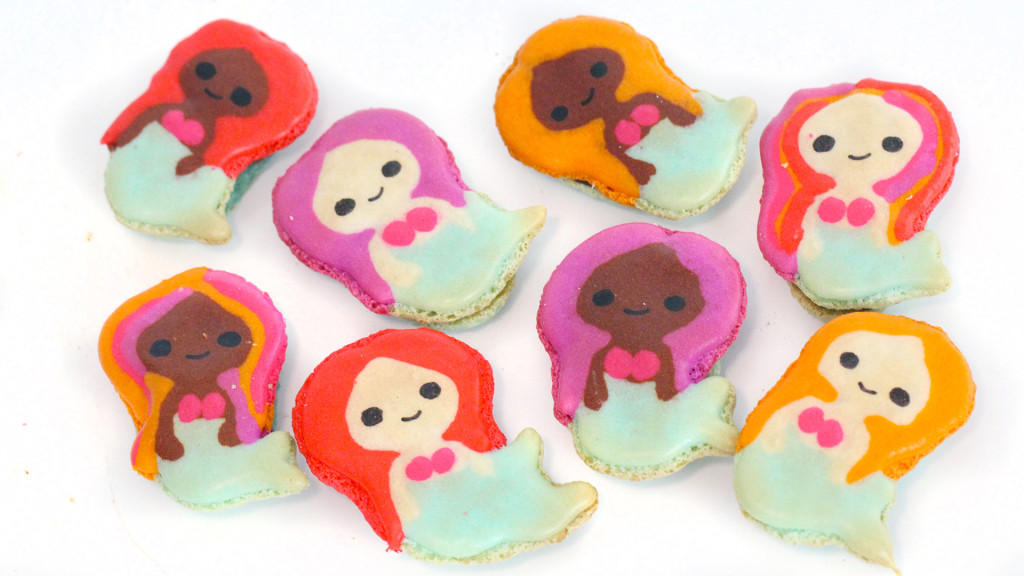 Mermaid Macarons | 人魚のマカロン
材料
粉糖 カップ1/2
アーモンド粉 カップ3/4
卵白 大2個
酒石英 ひとつまみ
上白糖 カップ1/4
バニラエッセンス 小さじ1
茶色、青色、赤色、ピンク色とオレンジ色の食用色素
ラズベリーのジャム
食用色素のペン
作り方
①砂糖とアーモンド粉をボウルで混ぜ、3回こしにかける。
②卵白を大きなボウルに入れ、3分立てになるまで泡立てる。酒石英を加え、八分立てぐらいになるまで泡立てる。上白糖を加え、九分立てぐらいになるまで高速で泡立てる。バニラエッセンスを加え、混ぜる。粉類をこしにかけながら、卵に加え、混ぜる。
③ バニラエッセンスを加え、よく混ぜる。生地を半分に分け、方ボウルを青色に着色する。残りのボウルをもう一度半分に分け、方ボウルを茶色に着色する。白色の生地を人魚の髪とブラにし、お好みの色に着色する。
④丸い口金がついた絞り袋に入れる。まず、人魚の体を作り、フィン、ブラと髪を作る。残りの青色の生地で長方形のベースを作る。調理台に天板をトントンし、空気を出す。室温で30分放置する。
⑤オーブンを190度にし、5分放置し、162度に弱める。天板枚ずつを6~8分焼く。3~4分が立ったら、天板をオーブンに回転する。天板1枚が焼き上がったら、オーブンを190度に戻し、5分放置し、162度に弱め、残りのマカロンを焼く。
⑥焼型に入ったままで2~3分冷まし、網に移し、しっかり冷ます。 一晩置くと食用色素のペンで描きやすいです!
⑦顔を食用色素のペンを描く。
⑧ラズベリーのジャムをマカロン2枚に挟む。