(日本語のレシピは以下にございます。)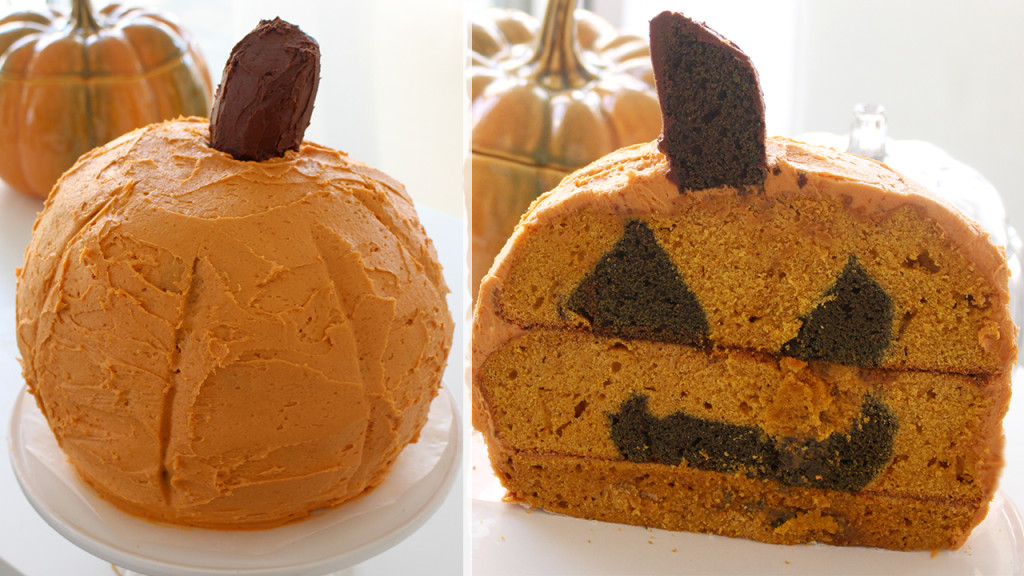 Inside-Out Jack-O-Lantern Cake | 裏返したカボチャちょうちんのケーキ
Ingredients (makes 1 large cake)
Cake Batter
❤ 6 cups cake flour
❤ 6 tsp baking powder
❤ 1 1/2 tsp baking soda
❤ 1 1/2 tsp salt
❤ 1 1/2 tbsp ground ginger
❤ 3 tsp cinnamon
❤ 1 1/2 tsp nutmeg
❤ 3/4 tsp cloves
❤ 1 1/2 cups unsalted butter
❤ 3 3/4 cups brown sugar
❤ 6 eggs
❤ 1 cup milk
❤ 4 1/2 tsp white vinegar
❤ 2 1/4 cups canned pumpkin
❤ orange food colouring
❤ 1 loaf Starbucks Pumpkin Spice Latte cake (recipe here), dyed black
Buttercream
❤ buttercream recipe from Starbucks Pumpkin Spice Latte cake, doubled (I added some orange food colouring to brighten the colour)
❤ cocoa powder
Directions
1. Combine the milk and vinegar in a glass and stir. Place in the fridge for 20 minutes, and you'll have homemade buttermilk!
2. Place the flour, baking powder, baking soda, salt, ginger, cinnamon, nutmeg and cloves in a bowl and whisk together. Set aside.
3. Place the butter and brown sugar in a bowl and beat with an electric mixer until pale and fluffy. Add the eggs one at a time, beating with each addition.
4. Add the flour mixture in 3 additions, alternating with the buttermilk. Then add and combine the pumpkin puree. Add a few drops of orange food colouring to brighten the batter. Set aside.
5. Slice the Starbucks Pumpkin Spice Latte Cake into 6 thick slices. Cut 2 triangle-shaped eyes out of one slice, then use these pieces of cake as stencils for 2 more slices. You should have 3 pairs of eyes in total. Repeat with the remaining 3 slices for the mouth. Save 1 large scrap of cake for the pumpkin's stem.
6. Grease and flour 3 9-inch round baking pans. In one pan, arrange the pairs of eyes back to back. Repeat with the mouth in the second pan. Pour the pumpkin cake batter on top, fully covering the cake pieces. Pour the remaining cake batter into the third pan.
7. Bake the cakes at 350F for 45-60 minutes, until the cakes are fully cooked. Let cool in the pans for 30 minutes, then transfer to a wire rack and allow to fully cool.
8. To assemble, place the smallest cake face down on a tray lined with parchment paper. Place the cake with the mouth on top (right side up), checking the bottom of the cake to check the alignment of the mouth. Flatten the surface of the cake, then place the cake with the eyes on top, checking the bottom of the cake to ensure that the eyes and mouth are facing the same direction. Place a marker on the tray to remind yourself which way the face is facing.
9. Carve the cake into a sphere.
10. Mix a small amount of buttercream with some cocoa powder to dye it brown. Coat the cake in a thin layer of the pumpkin spice buttercream, then coat in another thicker layer.
11. Make grooves in the buttercream to mimic a pumpkin. Cover the stem in the chocolate buttercream and stick it on top of the cake.
12. Slice the cake in half to reveal the jack-o-lantern face, and enjoy!
Want to see more video tutorials? Check out all of my recipes here!
http://www.youtube.com/pankobunny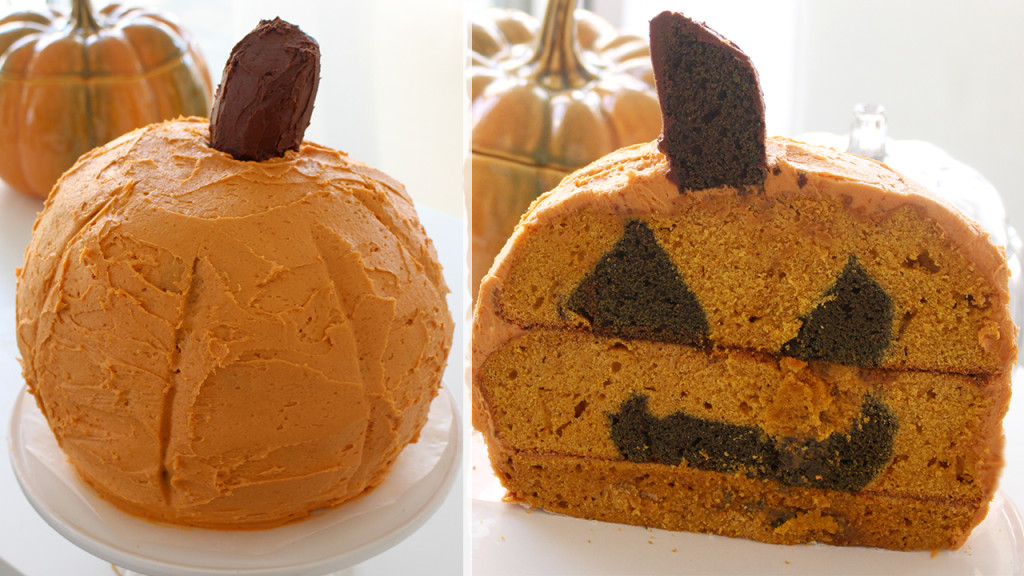 Inside-Out Jack-O-Lantern Cake | 裏返したカボチャちょうちんのケーキ
材料(1ケーキ分)
生地用
❤薄力粉 6カップ
❤ベーキングパウダー 小さじ6
❤重曹 小さじ1.5
❤塩 小さじ1.5
❤粉末しょうが 大さじ1.5
❤シナモン 小さじ3
❤ナツメグ 小さじ1.5
❤クローブパウダー 小さじ3/4
❤無塩バター 1.5カップ
❤黒砂糖 カップ3 3/4
❤卵 6個
❤牛乳 カップ1
❤白酢 小さじ4.5
❤缶パンプキン カップ2 1/4
❤オレンジ色の食用色素
❤パンプキン スパイス ラテのケーキ(黒色に着色した)(レシピはこちらです) 1ローフ分
バタークリーム用
❤パンプキン スパイス ラテのケーキのバタークリーム(オレンジ色の食用色素を加え、オレンジ色にしました) 2倍
❤ココアパウダー
作り方
①小さなボウルで牛乳と白酢を混ぜる。冷蔵庫に入れ、バターミルクを作る(20分)。
②薄力粉、ベーキングパウダー、重曹、塩、粉末しょうが、シナモン、ナツメグとクローブパウダーをボウルで混ぜる。別にしておく。
③黒砂糖とバターをボウルに入れ、泡だて器でふわふわになるまで泡立てる。卵黄1個ずつ加え、よく混ぜる。
④粉類を3回に分け、バターミルクを2回に分け、以下の順でボウルに加え、混ぜる。(粉類>バターミルク>粉類>バターミルク>粉類)缶パンプキンを加え、混ぜる。生地にオレンジ色の食用色素を加え、よく混ぜ、かぼちゃ色にする。別にしておく。
⑤パンプキン スパイス ラテのケーキを6枚にスライスする。1枚で三角形の目を作り、ステンシルにし、後2枚で目を抜く。全部で目6個になります。残りの3枚で口を作る。ケーキクズでかぼちゃのヘタを作る。
⑥23cm直径の丸い焼型3枚にバターを塗り、小麦粉をまぶす。焼型1枚に目を並ぶ。後1枚の焼型に口を並ぶ。ケーキの生地で目と口をかぶる。残りの生地を残りの焼型に流し入れる。
⑦176度のオーブンで火が通るまで焼く(約45~60分)。焼型に入ったままで30分冷まし、網に移し、しっかり冷ます。
⑧組立つために、一番細いケーキをひっくり返して、クッキングシートを引いたトレーなどに入れる。口が入ったケーキをその上にし、口はどちらに向くかと必ずチェックしてね❤ケーキの表面を平らにし、目が入ったケーキをその上にし、口と同じ方向に向いているようにアレンジする。どちらに向くかとを忘れないようにトレーにシールなどをつける。
⑨ケーキを球形に刻む。
⑩バタークリーム少々をココアパウダーと混ぜ、茶色に着色する。ケーキの表面の全体にパンプキンのバタークリームを薄く塗る。
⑪かぼちゃに見えるようにバタークリームに縞を描く。ヘタをチョコレートのバタークリームに塗り、ケーキの上につける。
⑫ケーキを半分にスライスするとカボチャちょうちんが現れます!
すべてのレシピの動画はこちらですよ!ぜひ見てください!❤