(日本語のレシピは以下にございます。)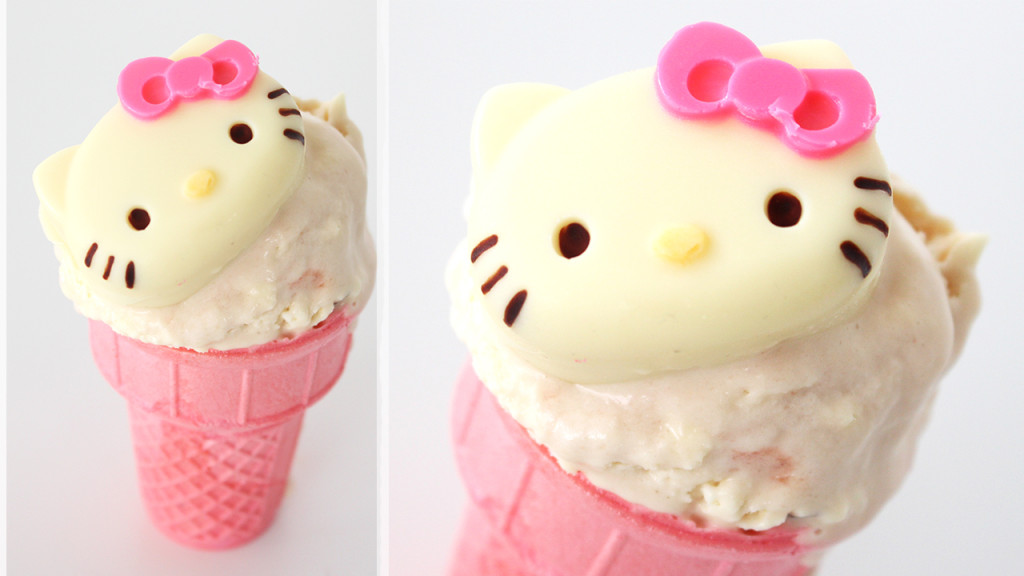 Hello Kitty Ice Cream | ハローキティのアイスクリーム
https://youtu.be/O2LANerg49Q
Ingredients
❤ ½ recipe of Homemade Vanilla Ice Cream, softened (recipe here)
❤ 1/4 cup Homemade Strawberry Jam (recipe here)
❤ white chocolate, melted
❤ dark chocolate, melted
❤ pink and yellow oil-based food colouring
❤ condensed milk
Directions
1. Using a Hello Kitty silicone chocolate mold, draw on Hello Kitty's eyes and whiskers with dark chocolate. Dye some white chocolate pink and yellow using oil-based food colouring, and colour in Hello Kitty's bow and her nose. Place the mold in the freezer for about 10 minutes until the chocolate is set.
2. Coat the insides of the mold with more melted white chocolate, to make the shell of the chocolates. Return this to the freezer to set, about 10-15 minutes. Fill the chocolates 70% of the way full with condensed milk, and return to the freezer until the condensed milk has hardened to touch.
3. Pour more melted white chocolate on top to create the base of the chocolate, making sure to fully seal the chocolates closed. Return the chocolates to the freezer for a final time to set the chocolate base, about 5-10 minutes. Then unmold the chocolates and set them aside in the fridge. Don't worry if the chocolates break when you are unmolding them. Just keep the pretty, intact chocolates for garnish, and use the broken chocolates in the next step.
4. Allow the vanilla ice cream to soften enough to be mixed with a spatula. Add the strawberry jam and Hello Kitty chocolates (saving some for garnishing) and mix until incorporated. Mix roughly so that some of the chocolates break and the condensed milk gets ribboned throughout the ice cream.
5. Transfer the ice cream to a Tupperware container and allow it to set, about 7 hours or up to overnight.
6. To serve, scoop the ice cream into your desired bowls or ice cream cones, top with a Hello Kitty chocolate and enjoy!
Want to see more video tutorials? Check out all of my recipes here!
http://www.youtube.com/pankobunny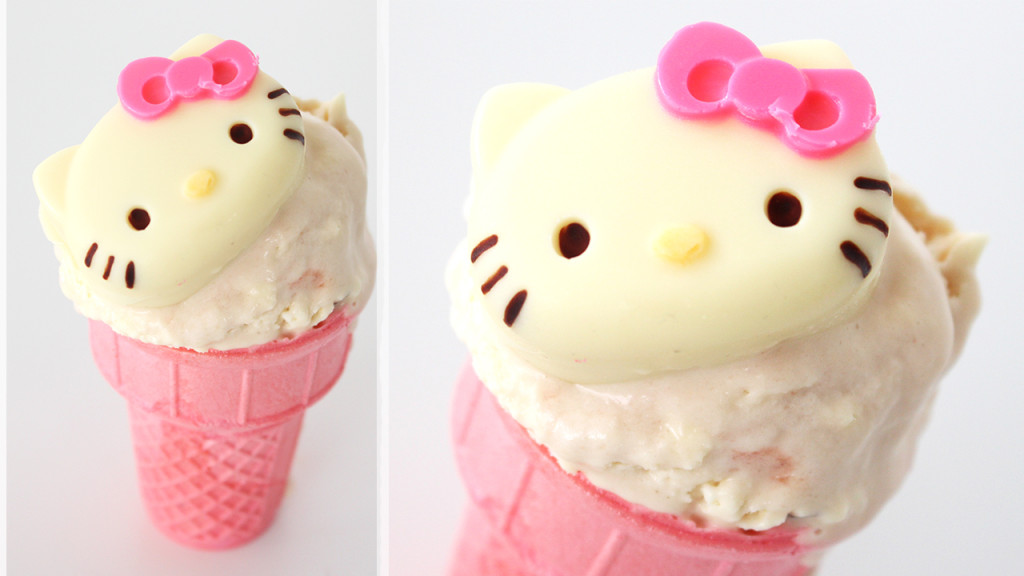 Hello Kitty Ice Cream | ハローキティのアイスクリーム
https://youtu.be/O2LANerg49Q
材料
❤1/2量のバニラバタークリーム(室温に戻した) (レシピはこちらです)
❤手作りいちごジャム カップ1/4(レシピはこちらです)
❤ホワイトチョコ、溶かした
❤ダークチョコ、溶かした
❤油性食用色素(ピンク色と黄色)
❤練乳
作り方
①ダークチョコでハローキティ形のシリコン型にハローキティの目とヒゲを描く。油性食用色素でホワイトチョコをピンク色と黄色に着色し、リボンと鼻を描く。冷凍庫に入れ、しっかり固まらせる(約10分)。
②型に溶けたホワイトチョコを塗り、チョコのシェルを作る。冷凍庫に戻し、しっかり固まらせる(約10~15分)。練乳を7分目ぐらいまで流し入れ、表面がちょっと固まるまで冷凍庫に置く。
③ホワイトチョコをその上に塗り、チョコのベースを作る。冷凍庫に戻し、ベースを固まらせる(約5~10分)。型から取り、冷蔵庫に置く。チョコが壊れたら心配しないで!壊れたチョコを次に使いますので、壊れていない方を飾り用にする。
④アイスクリームをゴムペラで混ぜるぐらいの柔らかさになるまで室温に戻す。いちごジャムとつぶしたハローキティのチョコを加える。チョコが壊れて、練乳がチョコからアイスクリームに漏れるように混ぜる。
⑤タッパーに流し入れ、冷凍庫に入れ、7時間~一晩冷やす。
⑥アイスクリームをお好みのボウルやコーンに入れ、壊れていないハローキティのチョコを飾ると完成です!
すべてのレシピの動画はこちらですよ!ぜひ見てください!❤