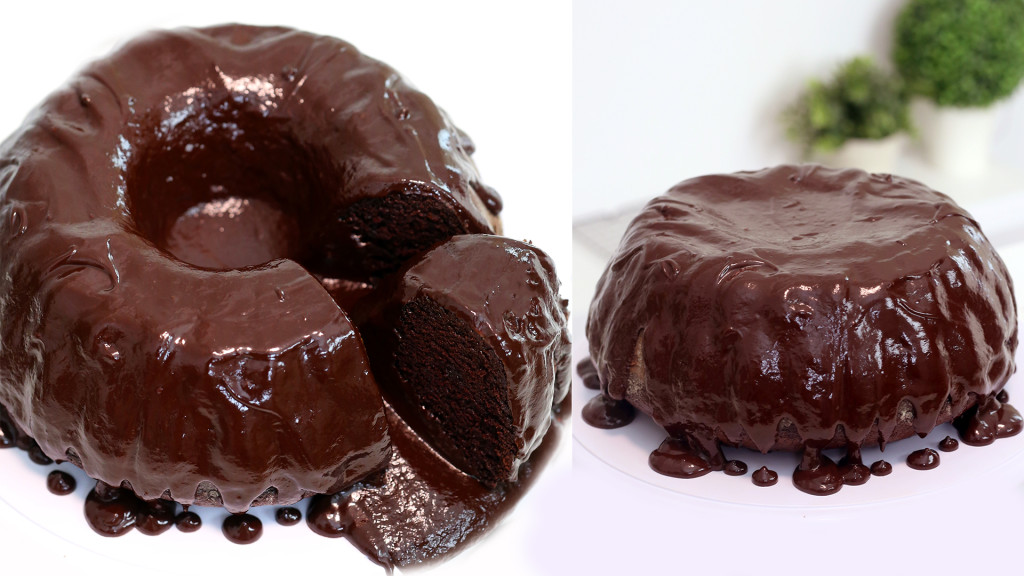 Giant Molten Chocolate Lava Cake
Ingredients
Cake batter:
2 cups all-purpose flour
2 cups sugar
¾ cup cocoa powder
2 tsp baking powder
1 1/2 tsp baking soda
1 tsp salt
1 cup milk
½ cup vegetable oil
2 large eggs
2 tsp vanilla extract
1 cup boiling water
Molten filling:
1 1/2 cups heavy cream
1 lb semisweet chocolate, chopped
Directions
Bake the cake:
1. Place the flour, sugar, cocoa powder, baking powder, baking soda and salt in a large bowl and mix together.
2. Add the milk, vegetable oil, eggs and vanilla extract and mix with an electric mixer until combined.
3. Slowly add the boiling water and mix until well combined.
4. Grease and flour a bundt cake pan. Pour the batter into the pan and bake at 350F for 35 minutes, until a skewer inserted into the center comes out clean. Cool for 15 minutes in the pan, then turn onto a wire rack and cook completely.
Make the molten filling:
1. Make this right before serving. Pour the heavy cream into a pot and bring to a simmer. Pour on top of the semisweet chocolate and let rest until the chocolate has melted.
2. Stir with a spatula until the ganache is smooth.
To serve:
1. Place the cake on a serving platter of your choice. Make sure that there is enough room around the cake so that the molten filling can spill out.
2. Right before serving, fill the middle of the bundt cake with the ganache, continuing to pour until it begins to spill over the sides of the cake.
3. Slice the cake and look at the delicious molten center pour out!